Oncheoncheon Stream

This serves as a space to enjoy green nature in a bustling downtown area as well as a meeting and cultural place for residents.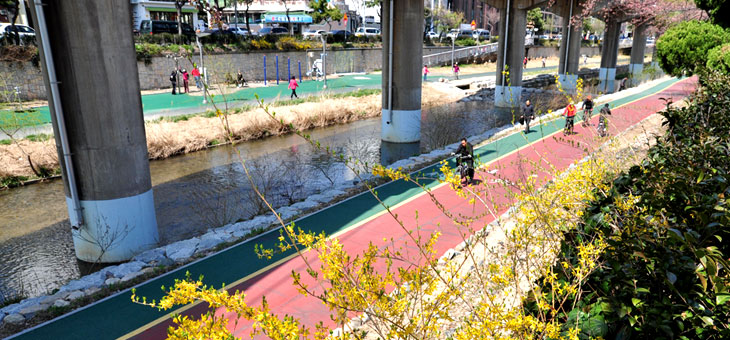 Origin of Oncheoncheon Stream
Oncheoncheon (溫泉川) Stream also called Dongnaecheon (東萊川), Seocheon (西川), or Beomeocheon (梵魚川) comes from Geumjeongsan Mountain, Geumjeong-gu. This 12.7-kilometer stream flows into the Suyeonggang River via Geumjeong-gu, Dongnae-gu, and then Yeonje-gu.
The Geumjeong-gu section located in the upper stream of Oncheoncheon Stream is approximately 6.5 kilometers long. Along this section, there is a very popular, 4.8-kilometer-long trail between Oncheonjang Station and Dusilgyo Bridge near Dusil Station. The feed water of Nakdonggang River is discharged in the upper side of the Cheongnyonggyo Bridge to maintain the flow of Oncheoncheon Stream.
Oncheoncheon Park
There are basketball courts, badminton courts, and an inline skating rink as well as a cycle lane here. Moreover, its 19,835-square-meter grassy terrain accompanied by wildflowers and 18 types of trees enable you to enjoy pure nature when you are exhausted from the bustle of city life.
13,000 people on average visit here a day. Also, various events such as open-air film screening summer nights are held in this park, to cultivate the park as a meeting place as well as a cultural space for residents.
Available facilities
Cycle Lane, Inline Skating Rink, Basketball Court,SportsFacilities, Access Road to Cycle Lane, Trail, Rest Area, Badminton Court
Walking and jogging

Cycling

Sports clubs

Community sports facility

Basketball Court

Badminton Court

Inline Skating Rink