Hoedong Reservoir

This is known as an important source of water as well as recreational place.
It is popular among hikers with its walking trail due to long history and the natural environment.
Overview
Location : It lies across five dongs including Hoedong-dong and Seon-dong in Geumjeong-gu and three myeons of Busan
Scale Area: 2.17k㎡, the area of impoundment: 95,000,000㎥, and the circumference of the lake: approx. 20km
Oryundae
Oryundae indicates beautiful landscape around the Hoedong Reservoir throughout Oryun-dong, Geumjeong-gu. Surrounded by mountains in all directions including nine folding screen-like mountains of Cheolma-myeon in Gijang-gun, this area has striking scenery invoking the vision of a phoenix soaring up from the valleys. That is why it is called 'Oryundae'.

Hoedong Reservoir Walking Route
Total distance: 8.7 kilometers (time required: approx. 2.5 hours)
Dongdaegyo →Myeongjang Water Treatment Plant (Hoedong branch) → Hoedong Dam → Oryundae → Sanghyeon Village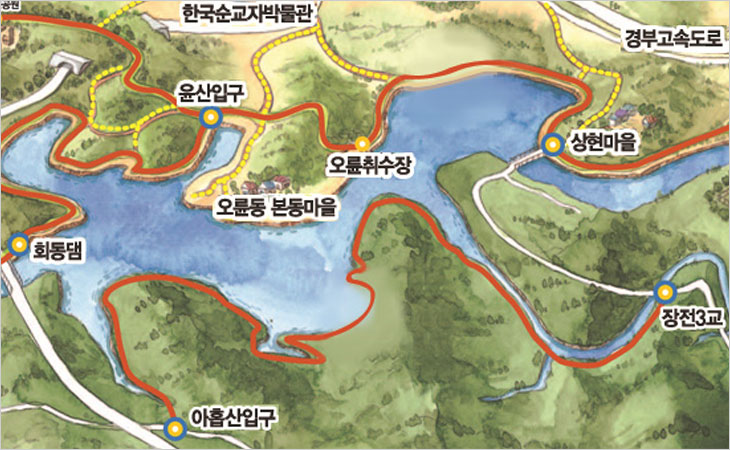 확대보기
Public Transportation
Guseo Station Exit 2 → Get on Village Bus 3-1 → Get off at Sanghyeon Village
Jangjeon Station Exit 2 or 4 → Get on Village Bus 5 → Get off at Oryunbondong
Take Bus 42, 99, or 179 to the last stop in Hoedong-dong → Hoedong Reservoir Management Office (Walk for 10 minutes)