Geumjeongsanseong Fortress

Historic Site No. 215. It is the largest Korea's fortress. Its fortress wall is18,845 meters long and 1.5-3 meters high with a gross area of approx. 8.2 square kilometers.
Designation number of cultural heritage and designation date : Historic Site No. 215/ February 9th, 1971
Scale : Length: 18,845 meters / Height : 1.5-3 meters / Total area of the inside fortress : Approx. 8.213 square kilometers
Tourist attractions
Geumjeongsanseong Fortress is composed of four gates and four watchtowers.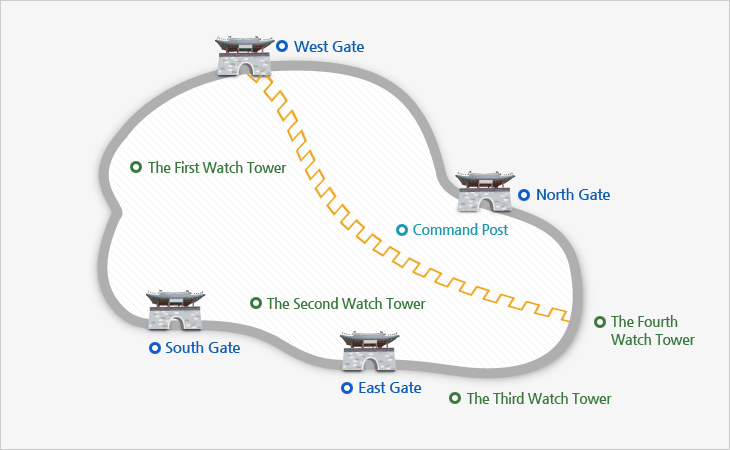 확대보기
Guide to attractions
Click on each image, and you can see enlarged images with detailed descriptions.
Location
Based on the North Gate, walk a distance approximately 1.6 kilometers along the hiking trail up toward the North Gate from Beomeosa Temple. (Get off at Beomeosa Station of Metro Line 1 and take Shuttle Bus 90.)
Origin
There is no literature to cite when fortresses began to be built in Mt. Geumjeongsan, but, there is an idea that there might already have existed fortresses in Silla, considering severe Japanese invasions on the south coast and down the Nakdonggang River.
Along with the extant mountain fortresses, Dongnae Magistrates Park Tae-hang and Lee Ya were in charge of building this fortress in 1703 (29th year of Sukjong). The Magistrate of Dongnae Han Bae-ha was in charge of building Jungseong Fortress in 1707 (33rd year of Sukjong, and then Magistrate of Dongnae Oh-Han-won was in charge of restoring the destroyed building in 1808 (8th year of Sunjo).

It was designated as a Stated-designated historic site in 1971 and the two-year project began to restore its East, West, South, and North gates, which had been damaged during the Japanese rule of Korea. Since then, the restoration project has proceeded.